Kumandi Organizational Training
& Team Building

| | |
| --- | --- |
| A Kumandi organizational training and/or team building seminar is perfect for corporate departments, organizational teams, boards of directors and other groups who would benefit from better communication, more effective listening skills and a means for getting in sync with one another. Especially if a group has lost its sense of cohesiveness, a session with Kumandi Drums can help you get back on track. | |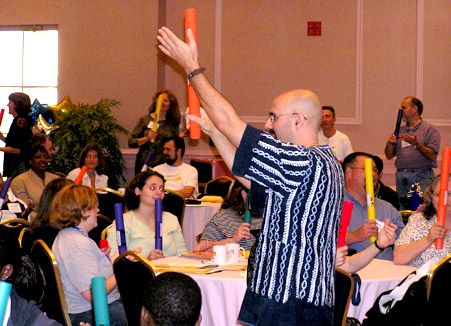 Our highly effective programs help organizations and teams improve their collaborative processes, enhance creativity and strengthen team relationships for measurable results. Full day and half day seminars for groups of virtually any size are available. Programs can be customized to address specific needs, including:
Listening skills
Collaborative processes
Creativity
Motivation
Communication
Productivity
Application to your real-world business situations
Special workshops also can be designed for teams of individuals who tend to "march to the beat of a different drummer." We can help your team use each member's unique talents in synergy.
Tell us about your organizational and team challenges. See how Kumandi can help you motivate your teams, strengthen their productivity and achieve results.