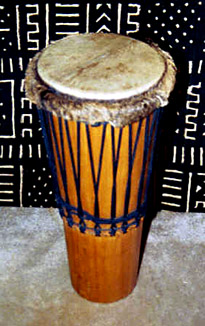 Djembes, ashikos, dunun and other drums entrusted to Kumandi for repair will be treated with the highest care and respect. A basic re-skin includes:
Refinishing of the shell with linseed oil
Clean up of the bearing edge
Mounting, tightening and tuning of the new skin.
The price for this service is $120, plus shipping (if necessary). Other upgrades may be recommended, and chosen at your discretion for additional fees, including: New rope, thinning overly heavy shells, recutting the bearing edge, leveling/centering the drum, resizing or replacing rings, rewrapping rings with new color fabric.